The cost of inaction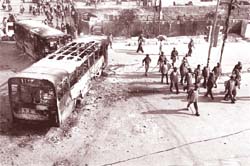 delhi had not seen the kind of protests that prevailed on November 20-21 in recent years. Thousands of angry workers took to the streets in several parts of the capital disrupting traffic, burning vehicles and resorting to widespread arson and looting to protest against the Delhi government's decision to seal around 100,000 small-scale industrial units.

The Delhi government was, in fact, forced to act on a Supreme Court ( sc) showcause notice to relocate all polluting industrial units from residential and non-conforming areas. At least three people have been killed and several injured. Protesters claim that around 1.5 million workers will be rendered jobless if the industrial units are closed down.

Experts feel that this situation has been created because of the inaction of successive governments. It all began in 1996. The sc ordered the Delhi government to relocate the erring industries from residential colonies by January 1997. With virtually no action taken, the apex court on September 8, 1999 extended the deadline till December 31, 1999. Frustrated that its earlier orders had not been implemented, the court, on November 14, severely reprimanded the chief secretary of the Delhi government by asking him why he should not be punished for not complying with the earlier court orders. Left with no option, the secretary ordered the closure on November 17.

As protesters threatened to cause mayhem, the Delhi government rushed to the sc requesting permission to "go slow' on cracking down on the units. But the court rejected the request saying that Court orders cannot be withdrawn simply because "hooligans have taken the city to ransom'.

Amid the tension on the streets, buck keeps getting passed on. While Union urban development minister Jagmohan blames the successive governments of Delhi for the situation, the Delhi government blames Jagmohan for his refusal to alter the Delhi Master Plan.

The factory owners, meanwhile, say they have the requisite licenses to run their units. It is estimated that around 15,000 licenses for industrial units in residential or non-conforming areas were issued in clear violation of the court orders.

With time running out, almost all political parties tried to amend the Delhi Master Plan. In other words, to bring in non-polluting units in the category of residential areas. But this was rejected by Jagmohan. He, however, agreed on November 22, to redifine the norms of a household industry. This move, it is estimated, may save at least 70 per cent of the industrial units in Delhi from closure.
Related Content