Small car revolution Who cares about congestion, pollution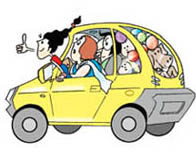 Small cars have had it good for quite a while, but the market could undergo a drastic transformation with the advent of ultra-cheap, small cars led by the Tatas' Rs 1 lakh model.

The Tata car, the stuff of dreams millions of potential vehicle owners haven't yet dared to dream, is slated to roll out of its factory in Singur, West Bengal, in 2008. The state government has done everything in its powers to facilitate the project, from land acquisition to fiscal breaks. At the moment, details are under wraps. Impressionistic media reports and hints from carmakers point to a stripped-down car perhaps with a 30-horsepower engine, in the range of 700 cc engine displacement with three cylinders. It will have a capacity of four or five passengers. Bosch is said to be designing a special fuel-injection system for the petrol version and a crdi unit for the diesel version.

Industry response has been cautious.Practically all of India's manufacturers offer or plan to offer a variety of small cars in different price ranges. For a long time, the Maruti 800 model of Maruti Udyog Limited has set the bottom price, now at Rs 2.16 lakh for the base model. Without taxes its cost can go down to Rs 1.4 lakh. Currently, nearly all Indian small cars are in the price range of Rs 2-4 lakh. In relation to the global price range all these cars fall below the us $10,000 tag. The Tatas will add a layer at the base of the pyramid, with a production capacity expected to exceed 350,000 units annually.


Tata car will set the trend
Industry argues that if India does not enter this segment, the Chinese will. Its mantra is: build volumes at the lower end, at lesser margins, and remain profitable.The availability of local skills and material, frugal engineering and an indigenous manufacturing base is the right recipe. Decentralised assembly to feed regional markets, as Tata Motors has planned, can keep logistics costs to a minimum.


Rising raw material costs, especially that of steel, and production delays can force Tata Motors to raise the price though. Auto market watcher Murad Ali Baig says, "Rs 1 lakh seems unachievable. Buyers' preference for comfort and performance and harsher standards will push up costs.' The margin of supplying components for small cars will have to be far too low compared to normal standards. But no one is coming out with data. The lowest cost of the base model may grip customer attention but its variants with improved features
Related Content